Religious groups are often (usually? nearly always?) behind homophobic legislation and similar initiatives. They certainly were in Romania's referendum this weekend, which was intended to exclude same-sex couples from the definition of marriage. Despite poll forecasts of 90% support for the initiative, and the support of the powerful Orthodox church, and the unusual step by the government of extending the vote to two days instead of one… it failed.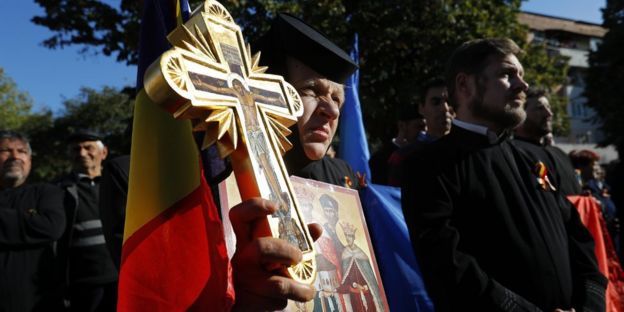 A combination of a boycott by gay rights groups, plus general anti-government feeling (the ruling Social Democrats had strongly supported the referendum; their leader, Liviu Dragnea, was due in court this week to appeal against a jail sentence of 3½ years for his involvement in a fake jobs scandal), plus apathy, kept the turnout to 20.4% – and 30% turnout was required for any result to be valid.
(However, in practice not much will change: Romania does not recognize gay marriage or civil unions.)
The religious rejection of gay marriage amuses me because two of the most revered figures in the monotheistic world had gay relationships: King David, whose love for Jonathan "was beyond the love of women", and the unmarried Jesus, whose youngest disciple John was "the disciple whom Jesus loved", i.e. in a category fundamentally different from his love for the other disciples.
But I guess there has always been an underground awareness of this…